Low-vision eye exams performed by a Doctor of Optometry, prescriptions for optical and non-optical devices, and/or assistive technology equipment to optimize residual vision and rehabilitation training.
Medical and lifestyle intake with a Registered Occupational Therapist, low-vision specialist to determine current problems, assess life skills and vision needs, and set goals. Followed by personalized training, implementation of care plan and use of prescribed low-vision devices, techniques, strategies and appropriate referrals.
Orientation and Mobility training administered by a Certified Orientation and Mobility Specialist. Safety assessments for environmental modification, risk management, sighted guide mobility training, and assistance generalized across home and work environments.
Loaner Program allows individuals an opportunity to borrow low-vision tools/aids to try out in their home, leisure, or work environment.
Youth Scholarship Program provides low-vision aids to school-aged children to enhance success in academics and life skills.
Ensight Onsite Low Vision Assessments offers Ensight's comprehensive visual rehabilitation program to those individuals living in senior communities. Ensight is currently working on collaborations with assisted living and independent living senior communities throughout Northern Colorado. This program allows us to come to our clients which eliminates the struggle with transportation to our centers.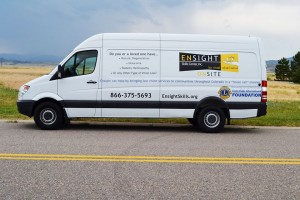 Rural Communities Mobile Program reaches out to the four corners of Colorado providing on-site low-vision evaluations, training and adaptive aides.
The Ensight Skills Centers have established successful, comprehensive, visual rehabilitation programs.  These programs empower people to proactively manage their independence and safety by developing individualized treatment and care plans.  We support employment and vocation for adults, help seniors remain independent, provide preventative care, and focus on the expansion of access to low-vision services.
Co-Pilots Program New World Sports and Ensight Skills Center introduce "Co-Pilots". An opportunity for blind and low-vision
individuals to experience bicycling in a safe and fun environment. Whether the 'Co-Pilot' paired with a qualified captain on a Tandem or a solo (low vision) cyclist, we will practice good communication and safety riding the roads and trails around Fort Collins. Call to make reservations and to schedule your tandem and captain. Tandems and Captains are limited.
www.NewWorldSportsLLC.com
970-224-5857
2013 Scheduled Group Rides
All rides will meet at New World Sports
The Gearage 401 S. Mason in Fort Collins.
April 26 (F) 4:30pm Poudre Trail East
May 31(F) 4:30pm Poudre Trail West
June 21 (F) 5pm Old Town/Mason
July 19 (F) 5:30pm Spring Creek We
Aug. 30 (F) 5pm Spring Creek/Poudre East
September 27 (F) 4:30pm CSU trails
October 25 (F) 4:30 Poudre Trail to Watson Lake
Community Awareness, Education and Support…through education, on-going seminars, monthly support groups and newsletters.
Upcoming E-Squared Groups…
• Greeley E-Squared Group- The Greeley Group will begin meeting on the fourth Monday of the month at the Curtis Strong Center located at 918 13th St. Suite 4 in Greeley. The next meeting will be held on July 22nd from 10-11:00 am.
• The Fort Collins E-Squared group will be meeting again on Thursday, July 25th from 10-11:00am. This group meets on the fourth Thursday of every month at Ensight's Fort Collins.
• The Denver group will meet July 18th from 10-11:00am. The group will meet the 3rd Thursday of every month. The address
is 1880 S Pierce St, Suite 11 in Lakewood. For more info on the Denver group or directions to the location call 303-757-4500.
• The Loveland group will meet the 3rd Tuesday of each month. The next meeting will be July 16th from 10:30-11:30 at Sugar Valley Estates 4320 Georgetown Drive in Loveland. This group is open to the community.
• Please call Melody @ 970.310.9665 for more information.
Technology Project
Technology has revolutionized daily life for people who are blind or visually impaired. The power of computers, cell phones, and GPS systems has now brought our world within reach for those unable to see.  Assistive technology, including specialized hardware or software that "speaks" or magnifies the computer screen, or renders hard-copy output into Braille, has changed the lives of countless individuals with low vision.  Students with visual impairments can complete homework, do research, take tests, and read books along with their sighted classmates. Adults with visual impairments can continue to work and pursue a wide range of careers because of the use of computers and other devices.