Please use the FAX Referral Form to assist you with referring patients to the Ensight Skills Center for low-vision care.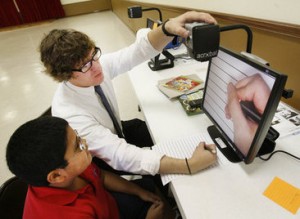 You should refer your low-vision patients to Ensight Skills because, as a not-for-profit organization staffed with leading professionals experienced in low-vision care, we allow you the opportunity to assure your patients the most comprehensive care in order to maximize their vision at a feasible cost. Funding from grants, foundations, and private donations enables us to provide patients the evaluation and prescription of devices in an affordable way, which restores patients with a measure of independence.
Referring Patients to Ensight Helps in Many Ways:
Vision: Your patient may see more than he or she thought they could.
Outlook: Your patient's outlook regarding treatment of their condition may improve, which makes it easier to treat their eye disease.
Relationship: The bond between your patient and you may grow stronger after demonstrating how you understand the impacts of disease in psychosocial ways.
References: When co-managed with Ensight, your patient's enthusiasm about the care you offer them will spread among their circle of associations, which often leads to more people who also suffer from eye diseases and low vision to seek professional help.
The National Eye Institute (NEI), American Academy of Ophthalmology (AAO), and American Optometric Association (AOA) include low-vision rehabilitation as a treatment modality in the continuum of care for people when permanent vision loss occurs and encourage such referrals. Ensight will work with you to monitor your patient's progress and inform you of your patient's results. Together, we can help fulfill the missions of NEI and AOA by improving the care and quality of life of those who suffer from serious eye conditions and low vision.
Colorado eye doctors who provide referrals to Ensight Skills Center:
Eye Center of Northern Colorado

Eye Care Center of Northern Colorado