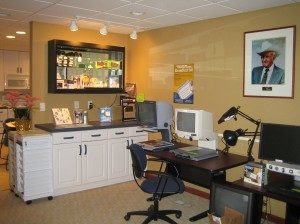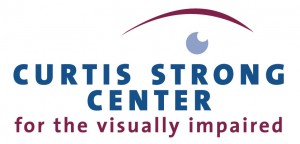 The Curtis Strong Center is located in Greeley, Colorado and is the main hub of low vision services for the Eastern Colorado area. Serving clients from Greeley to Sterling, Fort Morgan to Wray, our team of low vision specialists encourage individuals from all trades to reach out and find ways to remain independent and safe by learning skills and finding tools.
The History of Curtis Strong:
Curtis Strong was long known as a colorful storyteller and reader of poetry. A Colorado native, he was a business owner, avid pilot and outdoor enthusiast.  During his final years of life, he suffered from macular degeneration, an eye disease that caused him to lose most of his vision.
After Curtis Strong passed away in 2000, the North Colorado Medical Center Foundation was the residual beneficiary of his estate, and received nearly $2.3 million. This funding established the Curtis Strong Center for the Visually Impaired.
Ensight Skills Center now operates the Curtis Strong Center in Greeley. Ensight is accredited by the National Accreditation Council. The NAC is the standard setting and accrediting organization for agencies serving people with blindness or visual impairment.
The Center's typical client has a vision loss that cannot be corrected medically or surgically. Most clients struggle, even with corrective glasses, to read the newspaper, pay bills, or see the computer screen. The Center's purpose is to assist these individuals to maximize the vision they currently possess.
Appointments are held each Wednesday at the Curtis Strong Center. Walk in's interested in viewing tools, seeking information or wanting to schedule appointments are welcome Monday- Wednesday from 9:00am-3:00pm.
Available services at the Curtis Strong Center:
Low Vision Assessments

Optometry exams for low vision

Occupational Therapy services

Tools to view

Resources and Referrals
The Curtis Strong Center is a proud member of the Greeley Chamber of Commerce and is supported in part by the North Colorado Medical Center Foundation!