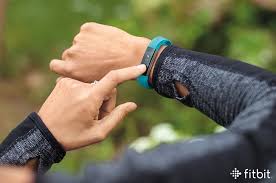 If you need a little motivation for staying fit, you may want to consider using a device or an app that records your activity. Many of these are accessible to people with vision impairments, and some people find them fun and inspiring! See below for a list of devices that you can use to stay fit!
Accessible Devices to Help You Stay Fit:
The Fitbit Flex from Fitbit is a small device you can wear on your wrist, and it monitors and records how far you walk, calories burned, and active minutes. You can also use it to track sleep.

This free app can keep track of how far you run or walk, and give you intermediate distances and average speed of movement. It also creates a mostly inaccessible map of your route. RunKeeper is available for both Android and iOS.

This free app allows you to keep a running food and exercise diary, entering your meals and workouts into the app or the website as you go. We offer a complete accessibility review of this app and website in the May 2014 issue of AccessWorld (My Fitness Pal: A Guide to an Accessible Fitness Tool).

This free app for Android and iOS allows you to manually enter glucose numbers, carbohydrate consumption, insulin dosages, and activities. Then, you can view and print all of your data on a free online account.
Apple iOS now contains both a Health Kit and a Home Kit app, platforms that makers of connected devices can tap in order to integrate their functions more smoothly with the phone and offer a more consistent user experience. We are in the early days of connected devices, and advocates are working hard to ensure the accessibility of this new class of products. As for now, you can usually download a connected device's app for free before you make a purchase and perform your own accessibility check.