Comprehensive Low Vision Program
Ensight's dedicated, professional staff of low vision specialists has 20 years of experience successfully working with thousands of individuals who are struggling with vision loss.  Our CEO Denny Moyer has low vision as a result of Stargardt's disease, and she began Ensight offering occupational therapy services herself.  Today, our established team of low vision optometrists, occupational therapists, orientation and mobility instructors, assistive technology tutors, and administrative staff is dedicated to helping you in your journey of loss and discovery.   Ensight's team provides a comprehensive program of vision rehabilitation to address your needs.
The full range of  visual rehabilitation services includes assessments, recommendations for optical and assistive devices, and training.  In addition we provide support and education as well as low vision assistive devices.  Read more below, and please call us if you have questions or concerns related to vision loss:  We are here to help!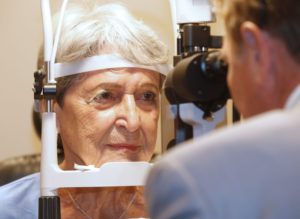 Low Vision Assessments and Training
Ensight's comprehensive vision rehabilitation program starts with a low vision assessment.  The optometrist and occupational therapist work together to assess remaining vision and ways you can use it for everyday tasks. The optometrist determines how your visual field functions and whether optical devices may help you to use it more effectively. The occupational therapist (OT) will discuss with you your goals, needs, lifestyle and health concerns as well as your desires to perform particular tasks and activities. Together, the doctor and OT will recommend all the best tools and approaches to safely and reasonably do the things you need to do in daily life, from reading, to cooking, to using the computer, managing hygiene, walking, and many others.
In some cases the OT will go to your home to deliver, set up, and adjust equipment and train you to use it optimally. If needed, he or she will visit multiple times to provide assistance.
Orientation and Mobility Training
Ensight's comprehensive rehabilitation program would not be complete without addressing mobility and safety.  Our staff includes three certified Orientation and Mobility instructors who teach individuals how to use the white cane for travel. They work with you on walking, accessing and using transportation, and travel safety. We also provide training in using the white cane with guide dogs.
Assistive Technology
Assistive technology low vision devices can help you make the most of your remaining vision in performing everyday tasks. From low-tech devices such as lamps, signature cards, and large print playing cards; to higher tech options such as magnifiers, talking watches, and closed circuit televisions (often called readers) these items can make adjustment to vision loss easier and accomplishing tasks more efficient.
Ensight and Curtis Strong Center's offices carry used and new devices, and we order particular items as needed. When adjustments or different items are needed, we help make sure you obtain the correct tools for your needs. In addition, the OT will ensure that you are able to use them effectively and that they help you accomplish needed tasks.
In today's world, smart phones and electronic tablets such as iPads are wonderful communication tools as well as excellent low-vision aids given their accessibility features. Our Assistive Technology instructors can help you set up the zoom or Voiceover features and learn to use them, and they can also inform you about using the devices as magnifiers, object identifiers, and for many other needs.
As of 2020 Ensight has partnered with the Audio Information Network or Colorado to provide Amazon Echoes and training in their use for low vision needs. To find out more about AINC, visit https://aincolorado.org/.
Stories and Support from our Blog and Social Media
Our newsletter and blog cover the stories of our clients and others who have experienced vision loss as well as information about assistive technology, eye disease research, and many other low-vision topics.
Follow our Facebook page.
Watch our website for updated information on these topics as well as announcements about our services and educational or social opportunities.
Support and Education
Our staff understands that coping with vision loss is difficult, and that support is crucial in the process of adapting physically, emotionally, and socially. Our occupational therapists will discuss various aspects of adapting such as how to communicate with family members, finding support and resources, and advocating for oneself.
Ensight also provides counseling and group support.  Onsite and remote counseling is provided by a trained psychotherapist, and group support is available in the following formats:
Online support group that meets twice monthly
Adaptive painting classes
Educational presentations on various assistive devices
Fall prevention classes
Call  us today with your questions about low vision services and support:
1-866-375-5693