The Ensight Skills Center (ESC) which was founded on July 7, 2001 will be celebrating 10 years of service this July.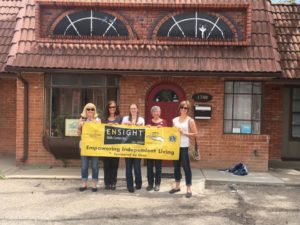 It all began with a few visually impaired Lions: Carol Louks, Alan Beatty and Denny (Bettenhausen) Moyer, talking at a Fort Collins Lions Club meeting one day about how nice it would be for people with vision loss to have one place they could go to for help. From there it escalated and other Lions; Dr. Lou Thomas, Gordon Michel, Fred Tuttle, Bill Wood, Ron Lockner, Lila Bartmann, and Bev Campbell, started having meetings to discuss the viability of such a place.  After almost a year of these discussions, Lion Dr. Lou Thomas donated start up money through the Fort Collins Lions Foundation. The original $5,000 and donated space in the basement of Elderhaus, a non-profit organization serving senior citizens, helped to open the first Low Vision Rehabilitation Center in Northern Colorado. With two volunteer occupational therapy practitioners and a very small amount of low vision inventory, the Ensight Skills Center was able to serve about 35 people that first year.
Over the next 2.5 years, Ensight evaluated how low vision rehabilitation services were being provided in the US and developed the unique program of combining low vision trained Optometrists and Occupational Therapists to service low vision individuals. In December of 2003 Ensight moved into a larger 1650-square-foot facility that included an optical lane for use by our own Optometrist, greatly expanded area for low vision aids, a training area for Occupational Therapists and a training kitchen/support group meeting area. The Northern Colorado Medical Center Foundation in Greeley requested that Ensight take over the operations of the Curtis Strong Center for low vision in Greeley Colorado in 2007. In 2008 the Ensight Skills Center was adopted by the Colorado Lions as an official Lions State project. With the support of the Lions of Colorado, ESC submitted a grant request in 2009 to Lions Clubs International Foundation and used this successful grant to open a 3rd location in Denver. ESC has continued to expand by providing services out of a satellite office in Lafayette, Co.
Ensight Skills Center has served over 25,000 individuals through programs designed specifically for individuals who are losing vision from diseases such as Macular Degeneration, Glaucoma, Diabetic eye disease, stroke, Multiple Sclerosis or any disorder or disease that causes vision loss. The Ensight Skills Center's comprehensive low vision rehabilitation program includes an evaluation from a low vision Doctor: assessment and training with an Occupational Therapist at the center, in the home or work place.  Ensight offers free counseling, and support groups and now has the most up to date innovative assistive technology program available in Colorado which includes an assessment and training using adaptive software such as ZoomText and JAWS or hardware like a boldly marked keyboard or special mouse and much, much more. This is a wonderful program for those who use email, the internet, and word processing or for employment. ESC also provides other services such as orientation & mobility using contract staff. Whatever the reason, ESC can help individuals stay up to date and in touch regardless of their vision loss.
Awareness, education and outreach continue to be available across the state. Seminars are available several times each year to introduce low vision options to community members. Educational talks provide information to senior living communities, family members, caregivers and healthcare professionals about resources, prevention and options. Attendance at events such as the 9Health Fairs throughout Colorado help to bring further awareness about the needs of people who are losing vision as well as available resources.
Ensight has a staff of 15 which includes 3 Occupational Therapists, 3 Doctors of Optometry, an Assistive Technology Specialist, 4 amazing support staff, an Executive Director, Business Manager, Outreach Coordinator, and Director of Rehabilitation.
This year Ensight will host our annual fundraiser, celebrate with the Denver Noon Lions Mixer at the Denver Ensight location and you will be able to see us at the District and State conventions. So look for us and learn more about what Lions do in low vision. Find us on Facebook be sure to go to the Ensight Skills Center fan page and "LIKE" us.
THANK YOU LIONS FOR 10 YEARS OF SUPPORT