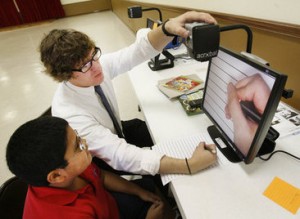 Occupational Therapy promotes a person's ability to independently participate in activities that bring meaning and purpose to their life.
At Lighthouse International, occupational therapists work with people of all ages with a variety of diagnoses such as stroke, cardiac conditions, multiple sclerosis, traumatic brain injury, arthritis, macular degeneration, glaucoma and diabetic retinopathy.
The Occupational Therapist focuses on a number of areas that affect a person's functional ability. Some of these include:
Training and educating in the use of visual devices such as magnifiers for reading mail and managing finances.
Visual skills training such as scanning for finding misplaced objects, and eccentric viewing for face recognition.
Treatment of sensory motor impairments that affects ones physical function especially hand skills.
Modify the environment for best task performance such as appropriate lighting and contrast, glare control and ergonomics.
Adapt grooming and dressing techniques for people especially affected by strokes
Participation in leisure activities
Individually designed home exercise programs to ensure successful outcomes
Creating and teaching the use of a memory book for people affected by dementia
Collaboration with school personnel and families for students with learning disabilities
Instruction in energy conservation techniques for those with cardiac conditions
Training people with arthritis in the use of joint protection principles for daily tasks
Home Safety and Fall Prevention
Identify fall hazards such as scatter rugs and wires
Make recommendations for safety equipment in the bathroom for transfer
Task: lighting in the kitchen for food preparation and medication management
Appropriate lighting for doorways and stairs
Increased contrast in potential fall areas
Occupational Therapists work with the visually impaired in a large variety of settings such as low vision clinics, schools, hospitals, nursing facilities, the workplace and in people's homes. They collaborate and work with other low vision professionals to reduce the impact of vision loss and promote independence
Article from Lighthouse.org.