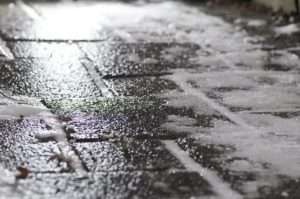 As winter approaches I am reminded of a winter not long ago when I fell on the ice and separated my shoulder. Ouch! I never saw the ice and I was on the ground in a flash. Living with low vision can certainly be a challenge.
At first, I thought my pride was the only thing hurt, but when I got to work and was sitting in a meeting I could really feel my arm and shoulder start to throb.
I ended up with a separated shoulder, a small fracture in my wrist, and a bit of bruising. After that, my wonderful mother-in-law gave me a pair of trekkers to wear over my shoes that would keep me safe on the ice. This is just another example of someone who is visually impaired and knows better not doing what needs to be done to stay safe. 
Living with Macular Degeneration has always challenged my independence and in a flash it was almost taken away. I could have been hurt much worse. Thankfully I was not.
Every year thousands of people with vision loss fall and break a bone, hip, arm or hit their head many result in death so this winter take care and use whatever tools you have that will keep you safe.
Thank you Jo I have not fallen since.
Denny Moyer