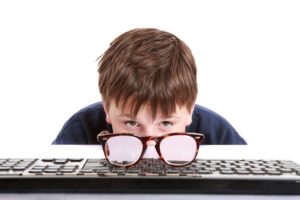 Ensight Skills Center now offers a full service Assistive Technology program in partnership with Techy Joe's Computer Solutions LLC. Our programs offer both technology and training assistance to anyone with a visual impairment.
All of our programs begin with our individualized assistive technology evaluation. This evaluation includes a demonstration of many of the assistive technology equipment, software and specialty devices that are available to persons with visual impairments.
The evaluation not only gives you an idea of what is available, but will also help both you and us determine what technologies would be helpful for your specific needs. During our evaluation you'll have the chance to see for yourself how these various technologies work, as well as assess how much training you might need in order to effectively operate those technologies.
From our evaluation we will provide you with a written quote and assistive technology plan that you will be able to customize to meet your budget, and needs.
We also offer assistance with helping your locate possible funds to help offset the cost of the assistive technology equipment and services that we are recommending for you. When you have selected the technologies that you feel would be most helpful, we can help with not only providing the technology to you, but also designing a customized training program that will give you the independence to succeed at using them.
We have the ability to work with you one-on-one at any one of our Training Centers located throughout Colorado, or we can also setup appointments with you to meet with you at your home or place of business. Depending on the equipment and training needed to help you meet your specific goals, it may be easier for us to come to you and provide training to you on your own equipment.
Our Assistive Technology professionals are not only experienced with providing training, but can also troubleshoot most problems that can also occur with your assistive technology equipment or software.
Our Assistive Technology professionals draw on over 10 plus years of experience in working with people that have visual impairments. They are also certified in several technology areas such as A+ hardware and software as well as Microsoft Certified with operating systems, office products and have years of experience in working with many assistive technologies to include: magnification and reading systems, digital audio book devices, CCTV magnification systems, large print scanning and reading systems, email and internet for the visually impaired and so many other assistive technology equipment and software systems.