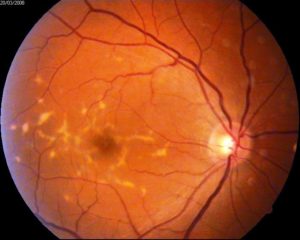 Stargardt Disease runs in my family. My mother, Denny, was diagnosed with Stargardt Disease when she was 25-years-old. The research being done is fanatastic, and maybe they will know how to repair the damage from Macular Degeneration in the near-future. Below is a great article about gene therapy being used for Stargardt Disease and Age-Related Macular Deneration (AMD) from the Foundation Fighting Blindness
"Gene Therapy Clinical Trials Underway for Stargardt Disease and AMD"
June 22, 2011 — The first-ever gene therapy clinical trial for Stargardt disease, a juvenile form of macular degeneration, is underway at Oregon Health & Science University's (OHSU) Casey Eye Institute in Portland. Peter Francis, M.D., Ph.D., the principal investigator for the Phase I/IIa study, reports that the trial's first participant has received the treatment.Known as StarGen™, the treatment is being developed by Oxford BioMedica, a biopharmaceutical company in the United Kingdom which also has gene therapy products for wet age-related macular degeneration (AMD) and Usher syndrome in clinical development.The Foundation Fighting Blindness funded many of the pivotal lab studies that are making Oxford's gene therapy clinical trials possible. For the past three decades, The Foundation has and continues to provide infrastructure funding to facilitate performance of OHSU's StarGen clinical trial.
StarGen holds promise for halting devastating vision loss for 30,000 people in the U.S. and tens of thousands more around the world affected with Stargardt disease. Most cases of the condition are caused by variations in the gene ABCA4. StarGen is designed to work by delivering healthy copies of ABCA4 to cells in the retina.
In parallel, Oxford BioMedica also reports that the first dose level of its RetinoStat® gene therapy for wet AMD is safe and well-tolerated after one month of administration. Approximately 1.7 million people in the U.S. and millions more in other developed countries have wet AMD.
Oxford BioMedica is expecting to begin a Phase I/IIa clinical trial of its UshStat® gene therapy at OHSU and at the Foundation-supported Hospitalier National d'Ophtalmologie des Quinze-Vingts in Paris, France, for the treatment of Usher syndrome type 1B by the end of 2011. Usher syndrome is the leading cause of combined deafness and blindness, affecting as many as 50,000 people in the U.S. and tens of thousands more around the world.
For more information on the StarGen clinical trial at OHSU, visit FightBlindness.org/StarGen. (Login is required.)
For more information on the RetinoStat clinical trial at Wilmer Eye Institute, visit FightBlindness.org/RetinoStat. (Login is also required.)
Details of Oxford's forthcoming UshStat clinical trial will be posted on the Foundation's Web site when they become available.